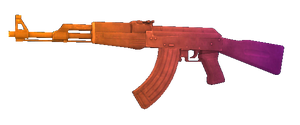 Skins are a cosmetic feature in the classic version of Critical Strike Portable and a major feature in Critical Ops. In the latter, the name refers to the external appearance of a weapon and in the former, it refers to the player's texture model. Both are purely for cosmetic purposes only and serve no legitimate gameplay function.
Obtaining
Getting a skin in Critical Strike Portable requires the player to:
Choose a preset player model skin in the player profile.
Build up enough money to select a new skin.
Note: These options will not work in the current version and mobile, or if the "Disable Skins" option is chosen.
Getting a skin in Critical Ops requires the player to:
Unlock weapon cases with Credits, which can be earned by watching ads, purchasing them with real money and completing missions.
Pick up a dropped weapon with a skin in matches.
Unlock individual skins using Tokens.
An optional way to get a free skin is to login a new Facebook account that has not been used previously to play the game.
Each weapon skin belongs to a specific tier, with a certain hundred tokens in value. x tokens, again depending on the tier, are offered to the player if a previously owned skin is earned again in the case opening and is also the token price of the skin.
List of Skins
Main article: Skin/List
Trivia
Critical Strike Portable abandoned the player skins in the current version and gave one unchangable skin for each side, except for the coloured players option.
The skin cases in Critical Ops previously had the logo of Critical Force Entertainment.
Gallery
Community content is available under
CC-BY-SA
unless otherwise noted.