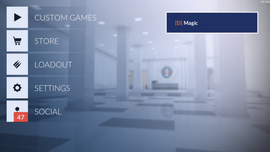 Friends are players you can send private messages to and people who can join your worlds in Critical Strike Portable and Critical Ops.
In Critical Strike Portable players can find friends in a clan they both share or by manually adding someone as a friend.
In Critical Ops, players can find friends by going on Social and then Friends in the main menu.  There they can type another player's name and send a friend request.
Overview
Critical Strike Portable
To friend players, a user must complete one of these tasks:
Going into a user's profile and adding him/her as a friend.
Joining a clan and meeting other members.
Friends are marked with a blue insignia depicting their rank above their head and a blue dot on the radar, if he or she is on the same force as the player. Anyone can mark anyone as a friend, even without the need for the other player to friend him or her back. On the main menu in the web version, a player can check if a friend is online on their profile.
This does not affect actual gameplay, but just allows an easier way for players to locate each other.
Critical Ops
To find friends, a user must complete this task:
Go onto the main menu and click "Social" and then Friends. Type in another player's username and send the request. Note that usernames are case-sensitive.
The advantage of the Friends system is that player can join their friends currently playing in a server, without the hassle of searching room names and typing room codes. However, a player cannot join their friend if:
The server is full.
The friend is currently inactive.
Game versions don't match.